Plastic Pallet Boxes, Vented walls and Bottom
In the field, during harvest time, these boxes are immediately filled, avoiding unnecessary and sometimes expensive goods transfers into boxes, bags or baskets. The vented pallet boxes reduce the steps and facilitate passing straight from the field to the processing plant, or by going directly into the truck, to the market.
Used for handling and storage of fruits and vegetables (CFIA). For aeration and freezing.
Series features:
| | |
| --- | --- |
| MXV – | Straight walls, vented walls and bottom, one piece construction, stackable up to 10 high, approved by the CFIA/FDA and meets HACCP standards. |
Capacity (Litre) :
719
Charge Capacity (lbs) :
1000
Units in stock :
0 in stock
For more units :
6 to 8 weeks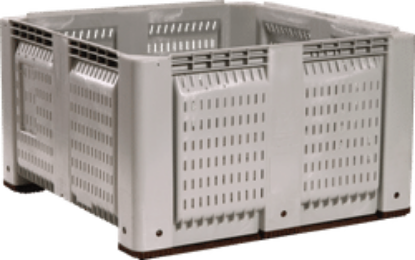 Capacity (Litre) :
821
Charge Capacity (lbs) :
1500
Units in stock :
0 in stock
For more units :
3 to 4 weeks