Rectangular Open Top Tanks
Offered in a rectangular format or with an angled dump side, these rectangular open top tanks are very versatile. They are often used for the storage or transportation of bulk food or industrial goods, for dipping applications or for making mixtures. A galvanized steel cart is available for easy handling.
These large plastic containers are made of FDA-compliant high-density polyethylene and meet all USDA specifications.
Commonly used in the pharmaceutical industry to contain sensitive materials, or in the food industry, for commercial fishing, meat, seafood, poultry, confectionery, pastries and cereals.
With great impact resistance, they can be used for transport, freezing or storage.
The plastic tank with an angled edge allows the unit to be easily tipped and emptied
Two models of galvanized steel undercarriages are offered to facilitate handling, a lower dolly for the rectangular tank and a higher dolly for the tank with an angle dump side.
A lid is available as an option.
USAGE :
These plastic tanks can be installed directly on the ground, on a firm and flat base, so they do not require any additional support.
However, they are not designed to be completely buried in the ground.
The use of the trolley specifically designed for the tank is recommended to move it easily and in complete safety.
A 1-1/2" drain plug can be installed to easily drain the tank.
A 1-1/2" or 2" bulkhead fitting can be added in place of the drain to allow a hose or pump to be connected.
Smooth interior for easy cleaning.
They are 100% recyclable at the end of their useful life.
For more information, you can check out the Tanks FAQ section as well as the information guide on plastic tanks.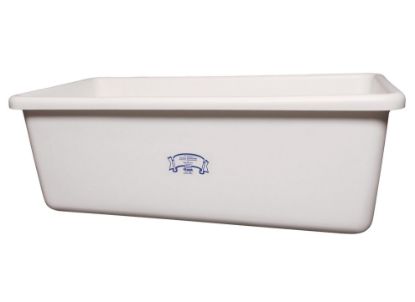 Capacity (Litre) :
265
Dim. (L x W x H) :
46.5" x 26" x 16.2"
Units in stock :
0 in stock
For more units :
5 à 6 semaines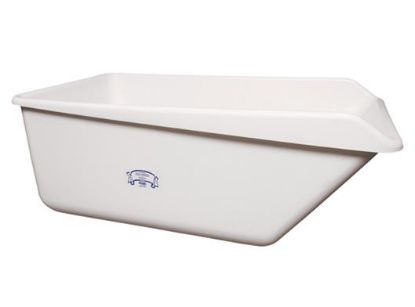 Capacity (Litre) :
388
Dim. (L x W x H) :
54.6" x 32" x 21.7"
Units in stock :
0 in stock
For more units :
5 à 6 semaines